Easy feedback makes for happy customers
Gather and collect feedback, issues, ideas & compliments with a simple widget. Receive them in your Notion database.
Give us Feedback. Try it yourself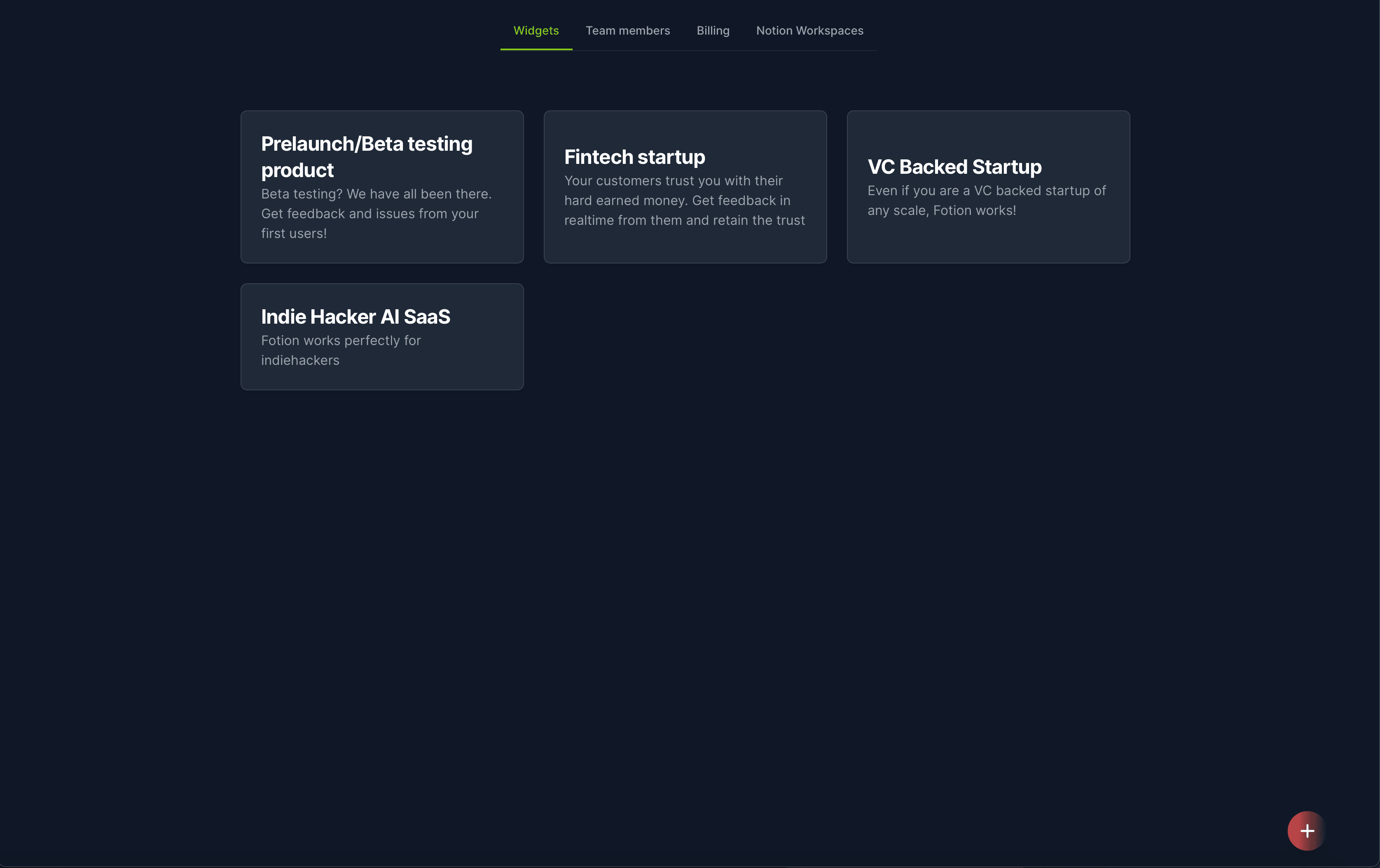 Build superior products off users feedback
Unlimited feedback

Fotion writes all your feedback to your Notion database which can scale to tens of thousands of items

Do not wait for support tickets or churned users

Most users won't file a support ticket unless it is absolutely critical. For non critical issues, they might churn instead. Fotion strikes the balance as it allows you get their feedback right on the spot
Features, Features and even some more features
95% of Fotion's features are available to everyone for free. And with zero limits.
Collaboration

Invite your team to your workspace to create and configure your widgets and notion dashboard

Unlimited widgets

You can create as many widgets as possible. 10 sites? 100 sites? we've got you!

Unlimted feedback built on Notion

Fotion does not limit the number of feedback you can receive by your billing plan. You can receive tens of thousands of feedback for free. As long as it can fit into your Notion, Fotion will happily store your feedback there

A thousand words or an image?

With Fotion, users are able to take a screenshot of the current page of your product while also attaching it to their feedback.

Identify users

You can attach the users' email to the feedback. This is useful for narrowing bugs to a specific user or knowing who made the feedback should in case you decide to contact them afterwards their feedback is addressed

Privacy by default

Fotion has privacy inbuilt as we do not store any of your feedback in our database. Whenever we receive any feedback, we just write to your Notion database. We also do not log the feedback on our servers in any way
Unleash the power of listening to your customers
Everyone advises that to build a great product, you have to listen to customers often and always. Fotion allows you do that cheaply and at scale. Fotion seems to be loved by quite a few people
A simple tool for our product and engineering team to be able to monitor complaints and feedback from customers. We run an open company and since the feedback are stored in Notion, we are now also able to provide access to these feedback to anyone at the company instead of other products that introduce another user count billing system and prices us out. I recommend to every platform product manager out there.

Oluwatosin Oladokun

Product at Itana

Fotion was easy to integrate on our Nuxt apps. It's seamless integration and screen capture features have aided us in swiftly identifying and resolving difficulties.

Seun Akanni

Frontend Engineer

Indie hackers and small shops do not have gargantuan budgets, I highly recommend Fotion for anyone looking to validate product decisions

Lanre

Software developer at Ayinke Ventures
Select a plan to get started:
Free plan
For Indie hackers and teams of one
We think we might get asked about these items a few times
If your question isn't here, shoot us an email
What is a widget?

A widget is an embedddable feedback form. When creating your widget, you can name it by the site you want to deploy it on. As an example, the widget deployed on this site is called usefotion.app

What access does Fotion have to my Notion workspace?

We only have access to the selected databases you share with us. We cannot read other ( private ) pages. We can only write to the database you share with us not your entire workspace.

Is there a free trial

Not at all. All features are free so you can get started without any financial commitment or a card. We only charge to collaborate with your team and third party integrations

Can I remove the Fotion branding?

Definitely yes albeit that is a pro feature :)

AI powered feedback?

😏😏😏😏😏😏